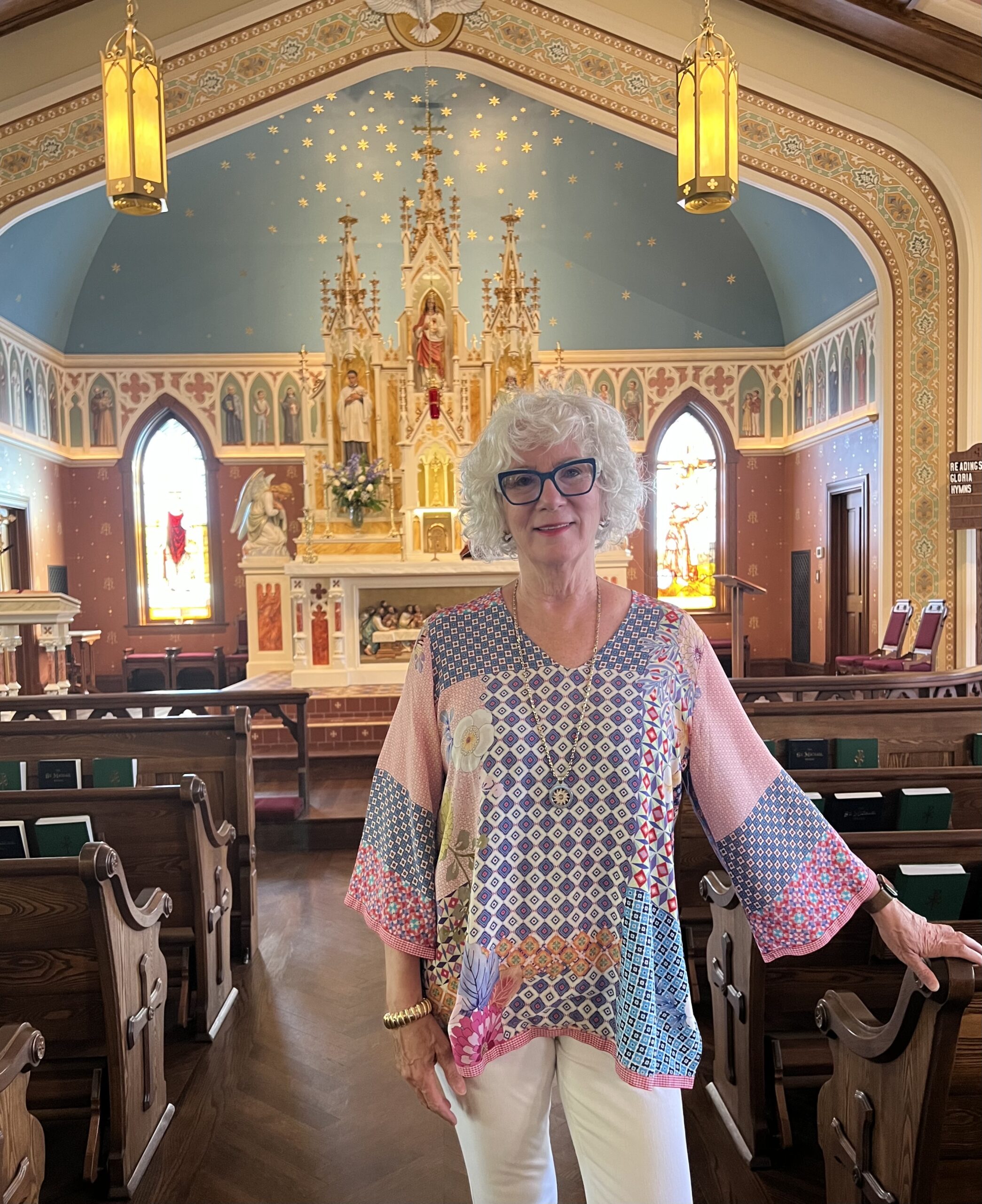 "She is the first to step up and ask what she can do to help."

Kim Baillargeon

Parishioner
Volunteer Brings Parishioners Closer to Saints and Each Other
Ann O'Brien, a former fallen-away Catholic, has been at the center of a popular community program at St. Mary's of Aspen to educate parishioners about the holy lives of saints and connect them over a meal.
O'Brien spearheaded the Cloud of Witnesses program after a church restoration project included art drawings of 20 saints up on the wall surrounding the altar. All the saints were canonized in the 20th or 21st centuries, like St. Faustina and St. Juan Diego, but many were unfamiliar to parishioners.
Shortly after the church restoration, it was forced to shut down because of the pandemic. When doors reopened, O'Brien developed the idea to build community through a monthly presentation about the new Cloud of Witnesses surrounding the altar.
O'Brien organized volunteers to research and present information and stories regarding each saint. Along the way, themed dinners representing either the saint's country of origin or food that connected to the saint culturally were added to the monthly progams.
"Because of Ann's devotion to our parish, we open the minds and hearts of those who attend the presentation," said parishioner Kim Baillargeon, and the person who nominated Ann as a Disciple of the Month. "She is the first to step up and ask what she can do to help."
O'Brien credits her sister and mother for consistently praying behind the scenes that she would come back to her Catholic faith, and she also credits her cousin for continually asking O'Brien to join her at weekly Mass. The day she finally said yes, she felt as though the priest was directly speaking to her in his homily. Today, O'Brien is a lector, a greeter, and an alto in the choir.
The program has welcomed atheists, Jews, agnostics, Episcopalians, and all others who may come from out of town or otherwise may have never stepped into a Catholic church.
"We are welcoming the whole community. This program has helped this community of parishioners get very close," O'Brien said. "We love this program…it is so great, bringing us all together. We really needed it."
Congratulations, Ann O'Brien, for being the Archbishop's Catholic Appeal, "Disciple of the Month."
If you know someone else who is courageously spreading the Gospel, please share his or her story with us at archden.org/give/nominate and they may become the next "Disciple of the Month."
The Archbishop's Catholic Appeal funds over 40 ministries that are sharing the Gospel every day.
NOMINATE A DISCIPLE
GIVE TODAY