St. John Paul II Center for the New Evangelization
1300 S. Steele St. Denver, CO 80210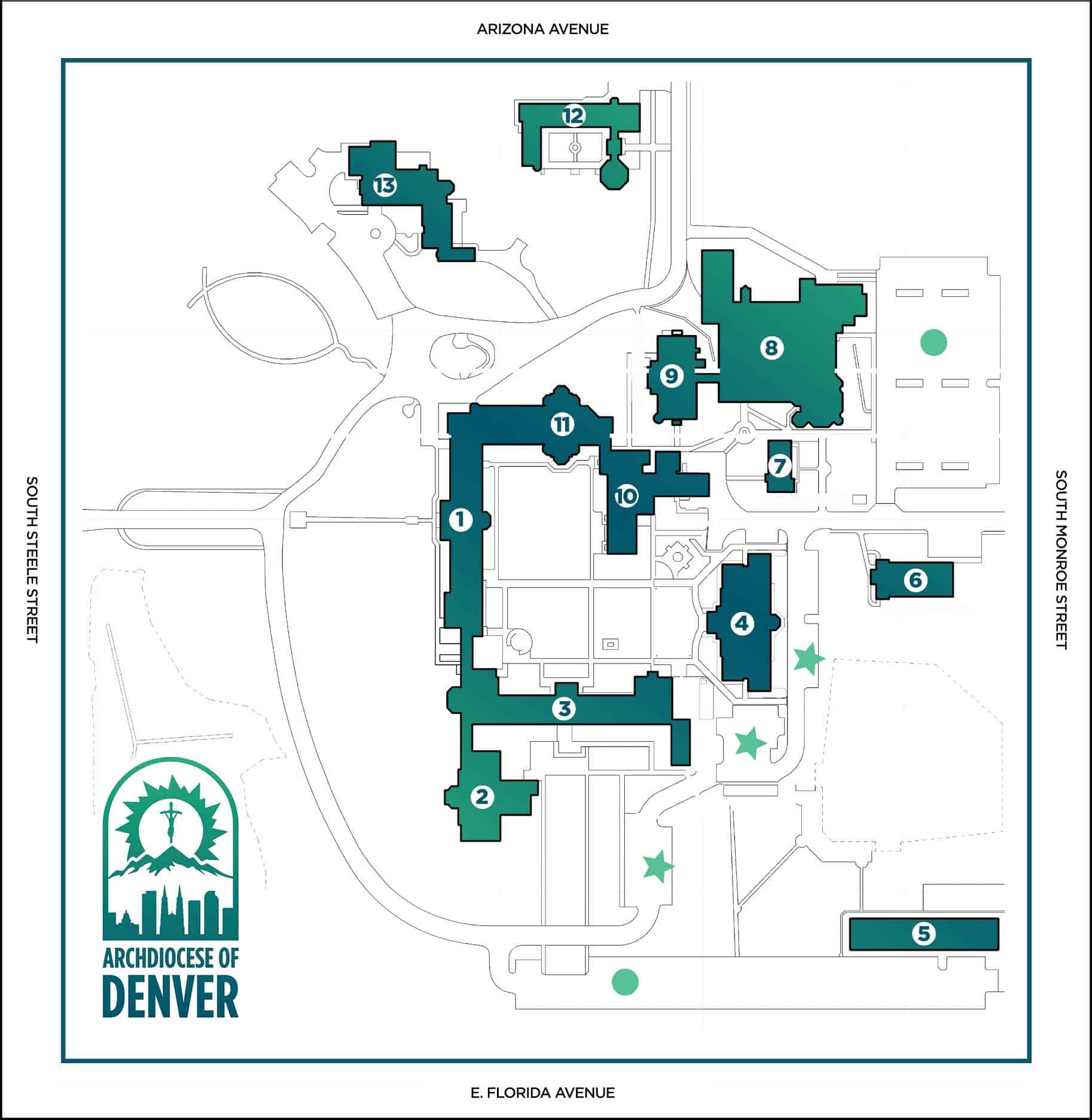 1. St. John Vianney Seminary
2. Cardinal Stafford Library 
3. Catholic Pastoral Center
4. Prophet Elijah House
5. Maintenance & Archives
6. Bonfils Hall 
7. Convent
8. Redemptoris Mater Seminary
9. Redemptoris Mater Seminary
10. St. John Vianney Seminary Kitchen & Refectory
11. Christ the King Chapel
12. Spirituality House
13. Holy Trinity Center 
★ Visitor/Student Parking
⬤ Employee Parking
Since 1905, the Catholic Church in Colorado has had a strong and indelible presence in southeast Denver at the site now known as the Saint John Paul II Center for the New Evangelization. The campus is home to more than 70 clergy, religious, and seminarians, as well as many essential archdiocesan facilities. Some of the key buildings include:
Pastoral Center
Provides classrooms and workspace for several offices and ministries who serve the mission of the archdiocese. More than 140 people work on the campus full-time.
Saint John Vianney Theological Seminary & Christ the King Chapel
The seminary forms the future priests of the archdiocese to live as holy men in the Church's mission of the New Evangelization.
Redemptoris Mater Archdiocesan Missionary Seminary
Redemptoris Mater is one of 102 international diocesan seminaries of the Neocatechumenal Way that form men to be priests of the universal Church.
Holy Trinity Center
A multi-purpose facility that provides apartments for priests, including the Archbishop, and hosts a variety of meetings and gatherings.
Cardinal Stafford Library
Named after J. Francis Cardinal Stafford, former Archbishop of Denver (1986-1996), the library serves as a religious, intellectual, and cultural resource in northern Colorado.