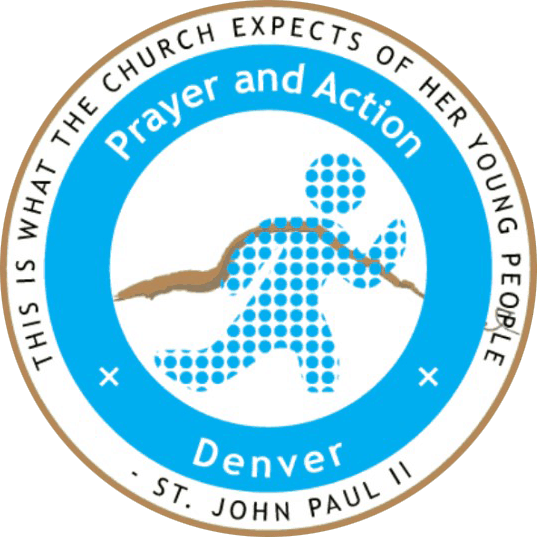 During registration we will ask for the number of participants each parish is planning on bringing. A $50 deposit for each spot you sign up for is due March 1st with the remaining balances due June 1st. Please note that we have limited availability for these camps, so we will be in communication with you about your group in the coming weeks! Contact Emily Crankfield with any questions. 
2023 Dates
Middle School Prayer and Action
July 10-14, 2023
Most Precious Blood Parish
Cost: $175 per camper
High School Prayer and Action
July 16-21, 2023
All Souls Parish
Cost: $195 per camper
*Camps start in the evening of the first day and conclude around noon on the last day
Please note that each parish attending is responsible for bringing the appropriate number of adult chaperones for their own group. If you are bringing both boys and girls to Prayer and Action, you must have both male and female chaperones for your individual group.
About
Look to Mary to see how to respond to Jesus' call. First she kept all things, pondering them in her heart. She also went to haste to serve her cousin Elizabeth. Both Attitudes are essential parts of our response to the Lord: PRAYER AND ACTION. This is what the Church expects of her young people.
-Pope St. John Paul II
Prayer & Action is a Catholic youth ministry program in the Archdiocese of Denver. Prayer & Action gives teenagers an experience of mission work within the bounds of the Archdiocese.
Our Goal
The program reaches out to various communities of the Archdiocese, providing for those most in need. This is done by the laboring hands and the open hearts of middle and high school students and their adult leaders. The primary goal of Prayer & Action is the evangelization and inspiration of teenagers, that they may set the world ablaze with the love of Christ.
An Overview
Prayer & Action sessions last five days (four days for middle school); the participants arrive on Sunday evening and stay until Friday (Thursday) morning. Throughout the week the participants paint, clean, do yard work, and perform other meaningful tasks for the poor, disabled, and elderly. The students spend the week in an atmosphere that is free of distractions. This fosters their faith, inspires charity, and leads them closer to Christ. The experience also allows them to get to know other high school students from other parts of the Archdiocese who share their Catholic faith.
The Prayer & Action experience is facilitated by the Mission Team which consists of dynamic young adults. This team and the parish adult leaders are with the students at the worksites, working side-by-side with them. In the evenings the team leads "Collatio," the retreat portion of Prayer & Action. Collatio is perhaps the most important part of the day as the students pray, play, worship, and grow together in Jesus Christ.
For more information contact our office: emily.crankfield@archden.org or 303-715-3179
Be a Part of the Prayer and Action Missionary Team
If you have a heart for young people, if you have experienced the loneliness and confusion that it is to be a teenager, if you have known what it is to desire to do and be something great, being a Prayer and Action Team Leader might be for you!
The role of our young adult leaders as part of the Prayer and Action mission is vital. Young adults have a unique ability to relate to teenagers, and teenagers are attracted to young adults who are not that far away from adolescence themselves and are living holy and God-centered lives. Nothing is more rewarding than being part of another person's journey toward Christ and His love for them. To experience sharing Christ's love with teens and with the people we serve is the treasure we are invited to store up.
Consider this an invitation to join in our mission to bring young people closer to Christ and the people He loves. Pray, and see if God doesn't invite you as well to be part of this mission experience. Young adults age 21+ are invited to be part of our paid leadership team. Young adults ages 18-20 are invited to be part of our volunteer team.
Apply Now!